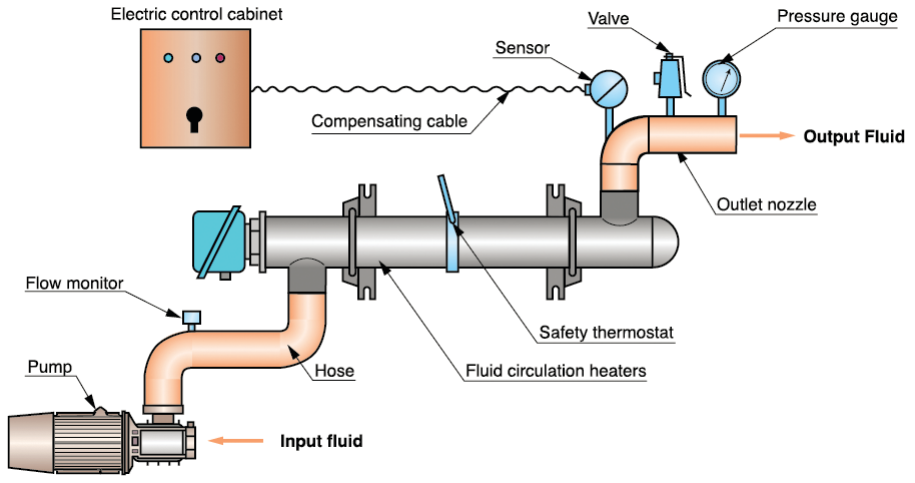 CIRCULATION HEATERS AND SUCTION HEATERS
Circulation heater design concept incorporates all the rugged and durable features of a tubular heater with the flexibilityof an Electrical Heat Exchanger.
OPTIONS
Ø Sheath materials - selected to suit the liquid or gas being heated
Ø Connections – BSP / NPT Threaded nipples or flanged inlet and outlet connections
Ø Flange pressure ratings - selected based on the temperature and pressure design conditions
Ø Terminal Enclosures
v Weather Proof
v Ex-d Flame proof / Explosion Proof
Ø Support frames - for stand - alone mounting Units
Ø Vessel materials - steel, stainless steel, or other specialty metals as required
Ø Cross flow baffles - to improve Heat Transfer Characteristics, when required
Ø Controls - built in thermostats, thermocouples, and high limit thermocouples
Complete Control Panels units with Thyristor Power Regulators (SCR) controllers & PID controls with required failsafe control devices are available. However Control Panels with regular power contactor controls are also available

SUCTION HEATERS
MATRUSREE ™ Suction Heater is a flow-through electrical heater, ideal for heating of oil or water. Its heat load capacities range from 3 to 200 kW, with design conditions up to 16 bar and 160°C. They are generally mounted Horizontally, but is also available as Vertical Mounting with Different MOC. These heaters are designed specially as Circulation Heaters but can also be designed for Out Flow Heaters as well as Immersion Heaters Application.